Producer
Vinicius Wagner Ignotti
A deep sweetness, enhanced by careful natural processing, is punctuated by soft citrus notes reminiscent of orange marmalade.
The Ignotti Family
Caixetas
Vinicius Wagner Ignotti is the fourth generation to produce coffee in his family. Vinicius' parents, Ricardo and Lúcia, initially inherited a small plot of land near the Chapadao de Ferro volcano in 1986, and were able to expand in the intervening years. During this massive expansion of Brazilian coffee, and of agriculture generally, these early movers were able to expand their lands considerably, diversifying into different regions and crops. In 2016, they purchased Fazenda Caixetas, a short drive to the north, near the city of Guimarânia. This was to be Vinicius' first project, where he took full control of farm operations after years of experience working with his parents. Although the family now had a significant area of farm land, they saw an opportunity to increase their profit by focussing on specialty coffee, and Vinicius took the lead on this project at Caixetas. It was on their second harvest that they produced their first specialty lots, with a focus on cherry sorting and careful fermentation and drying. Since these first lots in 2018, quality has continued to improve, and through their relationship with CafeBras and Ally Coffee, the Ignotti family have continued to receive better prices for their higher quality lots. This lot is of the Acauã varietal, planted by Vinicius in his pursuit of quality. The mix of high quality Mundo Novo, and the high yielding disease-resistant Sarchimor, creates a rather hardy plant, with some remaining hybrid vigour leading to excellent yields. Like most coffees in the Cerrado Mineiro region, this lot underwent natural processing, leading to a deep caramel sweetness, while holding onto some aromatic and jammy orange notes.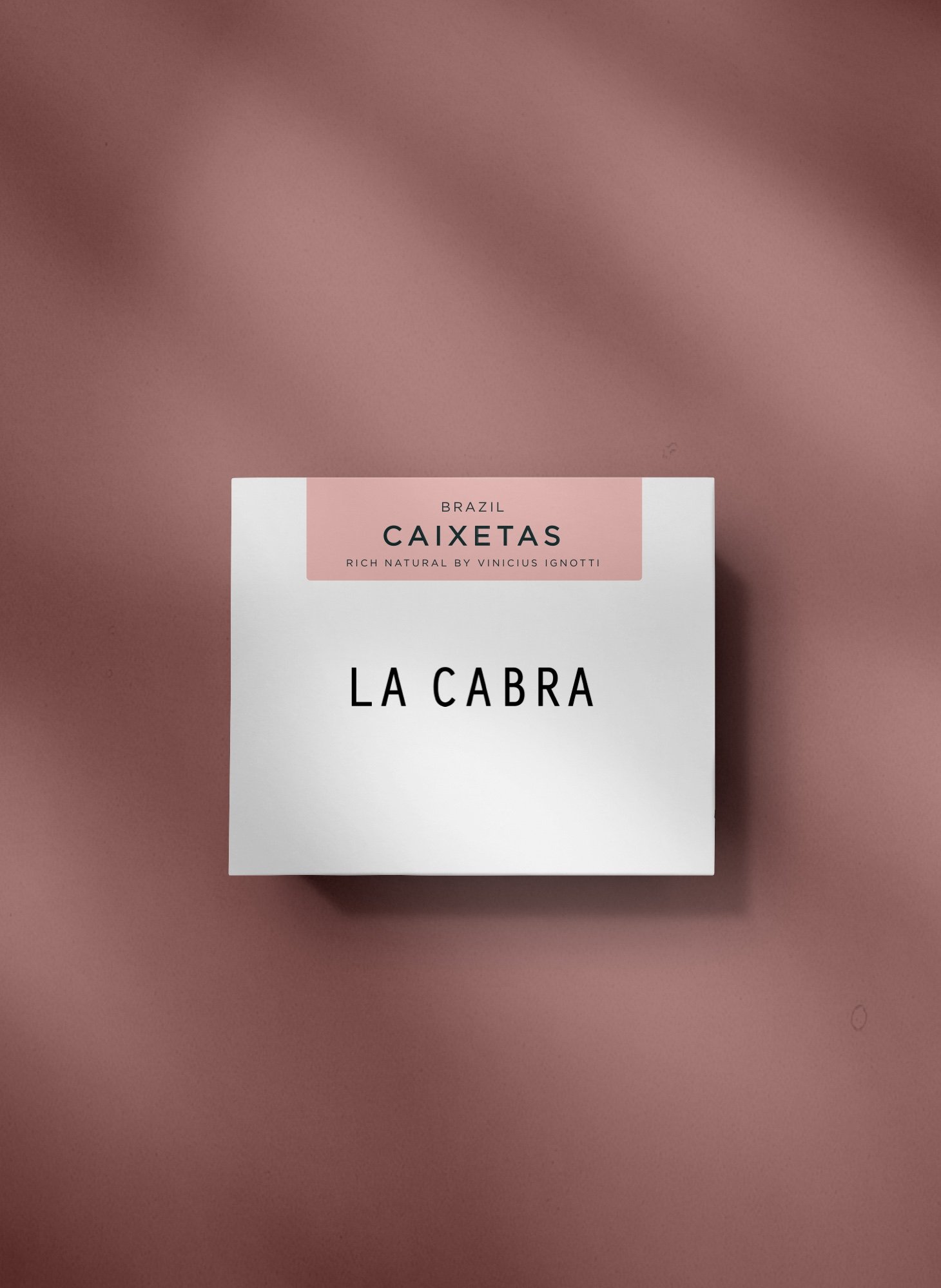 The Acauã cultivar contains both high quality Mundo Novo, and high yielding Sarchimor parentage.
A Protected Designation of Origin
Cerrado Mineiro
The region of Cerrado Mineiro is part of the state of Minas Gerais in southeastern Brazil. In 2013 the region became the first in Brazil to be granted a protected designation of origin certificate, similar to Champagne or Scotch whisky. To qualify for the title 'Cerrado', the coffees must be speciality grade (80+) and grown above 800 masl in the Cerrado Mineiro region. The 4500 producers of the Cerrado region produce 6 million bags of coffee a year, from 210,000 hectares of coffee growing lands. Most of the lands here are of quite low altitude compared to most of the coffee we buy here at La Cabra, and are more flat, rather than on more mountainous terrain. The region has characteristic and distinct seasons, with a wet warm summer, and a dry winter, leading to more consistency in growing conditions between years. The dry climate during harvest means less issues with drying coffees, part of the reason so many high quality naturals are produced here.
Technical Data
Producer

Vinicius Wagner Ignotti

Region

Cerrado Mineiro

Altitude

1050 masl

Varietal

Acauã

Process

Natural

Harvest

September 2020
Natural Process
The natural, or dry process, is the traditional process, going back generations. When accomplished in a controlled and careful manner, dry processed coffees can produce flavour experiences not found in wet processed coffees, deep fruits and florals, normally with heavier mouthfeel and lower acidity. The cherries are first sorted, and then laid out on in thin layers (2-6 cm) on raised drying beds. These are almost always used for high quality naturals, as they aid airflow around the coffee as it dries, enabling more even drying.
It is very important that coffees are sorted very carefully early on in the drying process, as all of the cherries quickly turn dark brown, making it impossible to separate under and overripe cherries. The cherries are turned frequently to avoid mold formation or over-fermentation, until they reach a moisture content of below 20%, and the outer cherry layer shrinks and blackens. This process takes between 2 and 4 weeks, depending on weather conditions.
---