Producer Marysabel and Moises Herrera
Minimum resting period Filter 7 days | Espresso 14 days
Brew For all brew methods.
Their Caballero project has won the Cup of Excellence several times.
Caballero Natural
Marysabel and Moises Herrera
This lot was produced by somewhat of a power couple in the world of speciality coffee. Marysabel and Moises Herrera have been pushing Honduran coffee forward since the early 2000's, and their years of success since are testament to their innovation and dedication. Their 150 hectares of land is located around the town of Marcala in the south of Honduras, not far from the border with El Salvador.
Marysabel grew up on a coffee farm near Marcala, and comes from a long line of coffee producers, the Caballeros for which the project is named. Her coffee producing heritage goes back over 100 years, her grandfather Felipe Garcia started producing coffee in the region in 1907. Moises comes from a very different background. He is originally from Guatemala, and met Marysabel while working as an accountant for a Guatemalan coffee exporter in Honduras in the mid 1990's. Nowadays, the couple continue to complement each other as a business partnership; Marysabel brings the tradition from her generations of experience, while Moises is more of an outsider, always asking why things are done a certain way and trying to push forward. They are responsible for 150 hectares of coffee growing land, and for all coffee processing at their wet and dry mill Xinacla, meaning they have control over every step of the coffee process, from tree to export.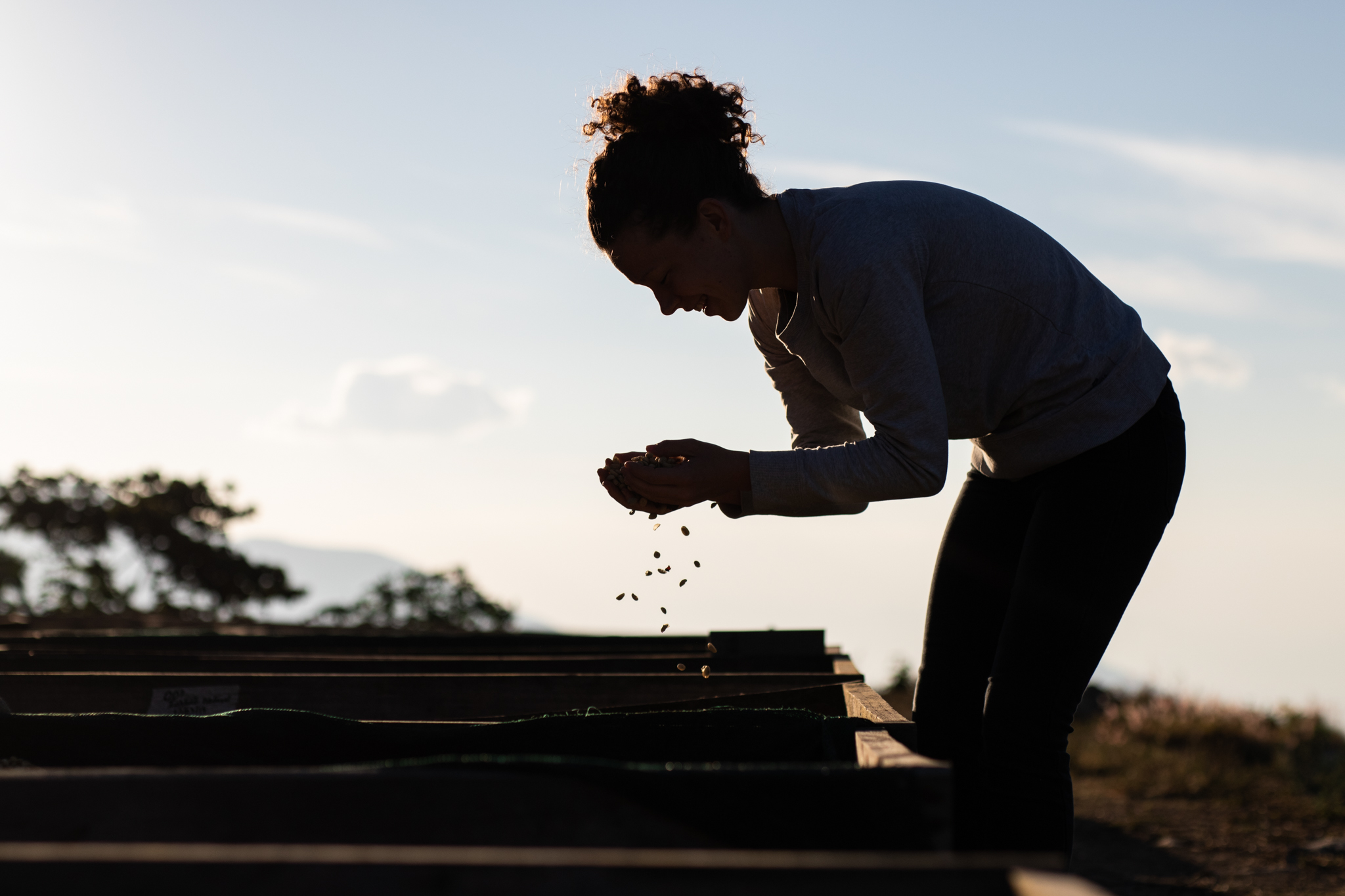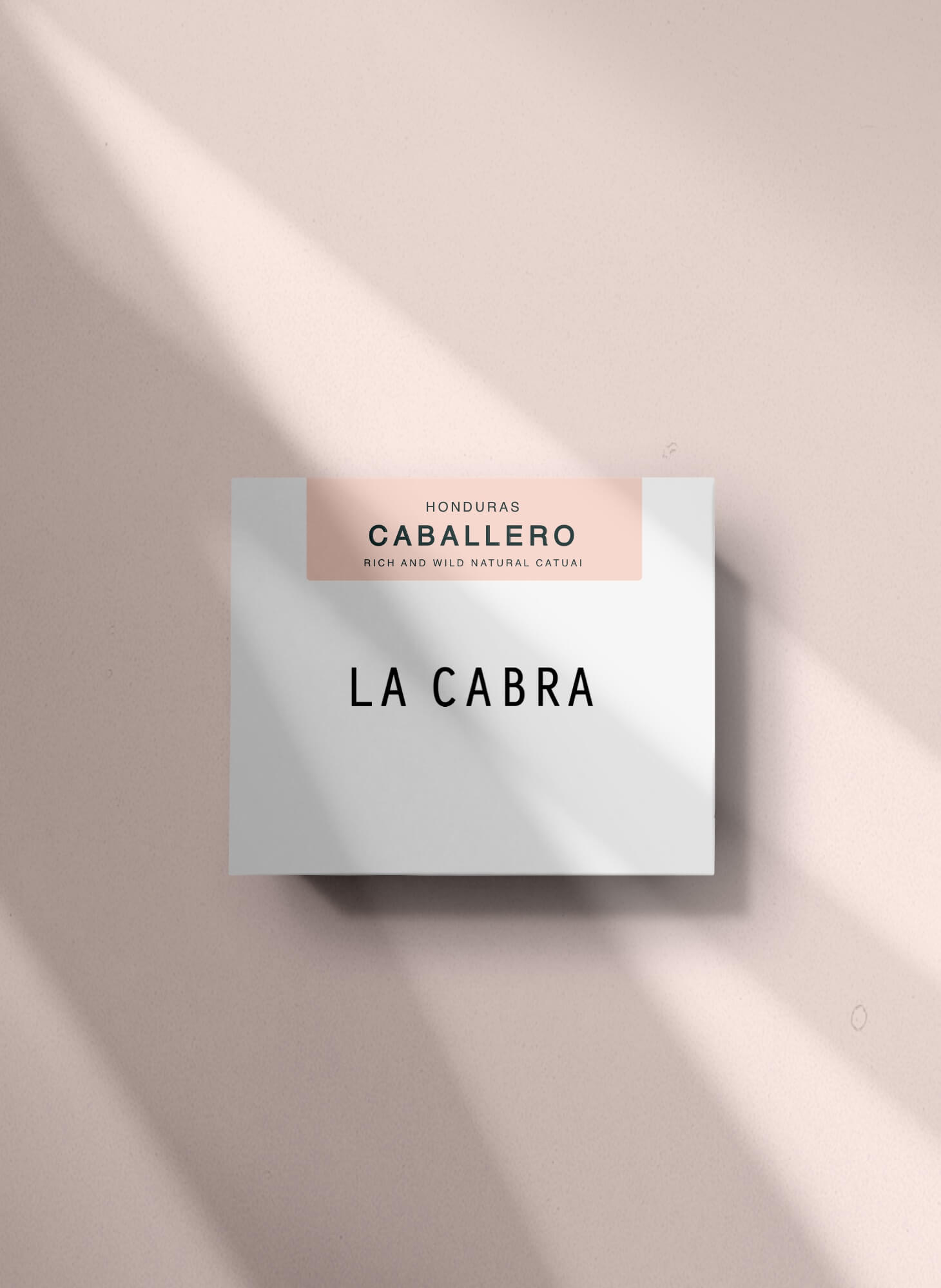 This natural lot is a rather new project for them, showcasing more wild ripe fruit than their washed coffees
Bomba de Fruta
Cup of Excellence
A hallmark of the Caballeros' work is their success in competitions like the Cup of Excellence. Initially taking every place from second to fifth in the Honduran competition in 2004, their success continued until 2013, when their farm was hit by an aggressive outbreak of leaf rust. The effects of this setback continued for several years, but Moises and Marysabel came back even stronger, winning the Cup of Excellence outright with Geisha lots in 2016 and 2018. They are always working hard to develop across the board. At the Xinacla mill, they have completely changed the way they dry coffee over the past few years, using raised beds and carefully built shade tunnels in order to dry coffees in a much more even and controlled way, greatly increasing the shelf life of their highest quality lots. They also create their own natural fertiliser on the farm, greatly reducing the need for chemical fertiliser, and have purchased new equipment that replaces traditional washing channels, reducing their water demand for processing. Marysabel and Moises are truly innovative and dedicated producers, who feel a great responsibility to both the environment and to their local community, having even built a school in a nearby town where many of their workers live.
This lot is a naturally processed Catuai from the Caballeros' project. The lot was put together from several plots on the farm, and dried on the same shaded raised beds as the washed coffees, slowly increasing the depth of cherry layers to slow down the drying. The Caballeros have only been producing natural coffees for about 4 years, and refer to the lots as a 'Bomba de Fruta', or fruit bomb, which carries through into the cup here with clear soft berry notes and a sugary candy sweetness.
Technical Data
Producer

Region

Altitude

Varietal

Process

Harvest
Process Method
The natural, or dry process, is the traditional process, going back generations. When accomplished in a controlled and careful manner, dry processed coffees can produce flavour experiences not found in wet processed coffees, deep fruits and florals, normally with heavier mouthfeel and lower acidity. The cherries are first sorted, and then laid out on in thin layers (2-6 cm) on raised drying beds. These are almost always used for high quality naturals, as they aid airflow around the coffee as it dries, enabling more even drying. It is very important that coffees are sorted very carefully early on in the drying process, as all of the cherries quickly turn dark brown, making it impossible to separate under and overripe cherries. The cherries are turned frequently to avoid mold formation or over-fermentation, until they reach a moisture content of below 20%, and the outer cherry layer shrinks and blackens. This process takes between 2 and 4 weeks, depending on weather conditions.
Brew Guides
Guidelines
Equipment