Our eighth year purchasing coffee from Mauricio Vindas
COSTA RICA
Altos
Altos del Abejonal sits at 1800 metres above sea level in the Tarrazu region, only 70 kilometres south of the Costa Rican capital San Jose. The Talamanca Sierra runs through the region, with peaks of above 3000 masl. The farm is also close to the regional capital of San Marcos, which sits at 1350 masl and is home to 9000 people, providing the hub to an area famous for its high quality coffee production. The volcanic soil and afternoon cloud cover in the region provides the perfect conditions for Mauricio to produce excellent coffees at Altos.
Where Mauricio's work really stands out is in fermentation. This is his naturally processed Catuai, the coffee that first led to our relationship with Altos. The coffee is dried on raised beds in cherry over 21 days, to a specific and controlled moisture content, being turned often to avoid over fermentation. This adds a controlled level of ferment character to the cup, just enough to reveal a heavy and intense character of ripe blueberries, along with a high syrupy sweetness. A testament to the importance of careful fermentation, Mauricio's coffee is one of the cleanest and most transparent naturals we have ever tasted, and we excitedly await its arrival at the roastery each year.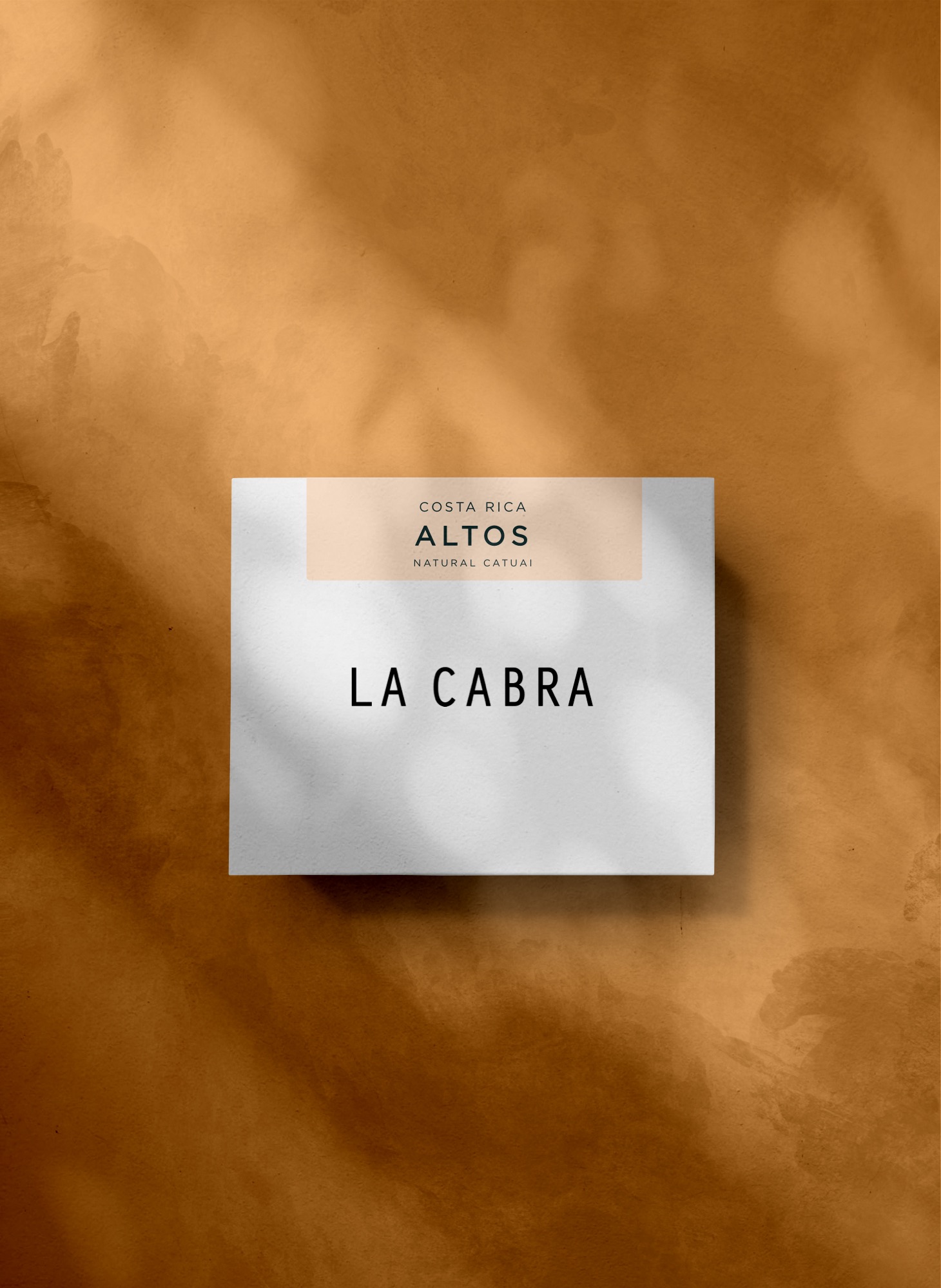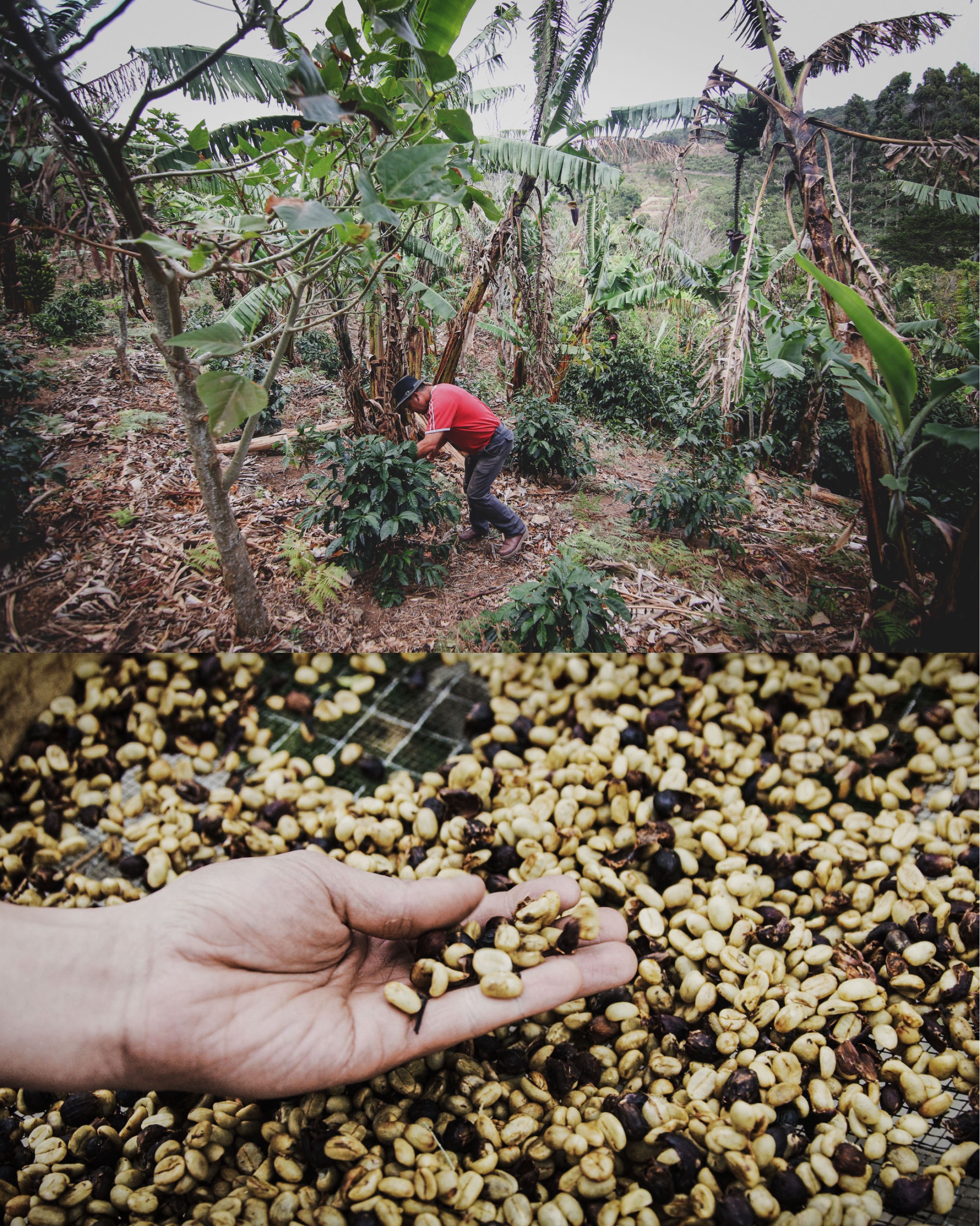 The coffee that started our relationship with Mauricio
NATURAL CATUAI
Mauricio
We first met Mauricio by chance. In March 2014 we were in Tarrazu, travelling around farms as guests of Exclusive Coffees, an exporter based in the region. After the last farm visit, our driver had to make a quick errand to see a friend, whose child had broken his hip and couldn't leave home. The driver dropped off a gift for the boy, while we made some conversation with his father. He was also a coffee farmer, he told us stories of his passion for coffee production and of how his son wanted to become a barista. The next day we asked the staff at Exclusive about Mauricio, and were able to cup his coffees. Some of the cleanest naturals we had ever tasted shone on the table, along with clean and crisp honey-processed coffees. We visited Altos again the next day, and bought our first couple of bags.
The coffee was so well received back in Denmark that we returned to Costa Rica the next year to visit Mauricio and buy more coffee. This is now our seventh year buying coffees from Mauricio. Having built a relationship over several years, we have discovered a shared interest in pushing the boundaries of how his coffee can taste. This coffee is very special to the team here at La Cabra, we always await its arrival with baited breath, eager to taste the fruits of this year's harvest. The hard work and dedication shown by Mauricio at every stage of coffee production is obvious in the cup, and we are proud to showcase his work to so many of those who truly appreciate it.
Technical Data
Producer

Mauricio Vindas

Region

Tarrazu

Altitude

1800 masl

Varietal

Catuai

Process

Natural

Harvest

March 2021
Natural Process
The natural, or dry process, is the traditional process, going back generations. When accomplished in a controlled and careful manner, dry processed coffees can produce flavour experiences not found in wet processed coffees, deep fruits and florals, normally with heavier mouthfeel and lower acidity. The cherries are first sorted, and then laid out on in thin layers (2-6 cm) on raised drying beds. These are almost always used for high quality naturals, as they aid airflow around the coffee as it dries, enabling more even drying.
It is very important that coffees are sorted very carefully early on in the drying process, as all of the cherries quickly turn dark brown, making it impossible to separate under and overripe cherries. The cherries are turned frequently to avoid mold formation or over-fermentation, until they reach a moisture content of below 20%, and the outer cherry layer shrinks and blackens. This process takes between 2 and 4 weeks, depending on weather conditions.
---